Polyester knitted fabric
has become a ubiquitous material in the textile industry, appreciated for its versatility, durability, and affordability. However, the traditional production of polyester fabrics has been associated with several environmental concerns, including reliance on fossil fuels, energy-intensive processes, and significant greenhouse gas emissions. As global awareness about sustainability and environmental impact rises, the textile industry is facing increasing pressure to adopt more eco-friendly practices.
In response to these challenges, manufacturers have been actively exploring various advancements and sustainable practices in the production of polyester knitted fabric. Here are some notable developments and initiatives:
Recycled Polyester (rPET) Fiber: One of the most significant strides towards sustainability in the polyester industry is the adoption of recycled polyester fibers. Manufacturers are increasingly using post-consumer PET bottles and other waste materials as feedstock to create rPET. This process reduces the dependency on virgin petroleum-based raw materials and helps divert plastic waste from landfills and oceans. Moreover, rPET often requires less energy and emits fewer greenhouse gases during its production compared to virgin polyester.
Eco-friendly Dyeing and Finishing Techniques: Traditional dyeing and finishing processes involve copious amounts of water, chemicals, and energy, leading to water pollution and high carbon footprints. However, innovative techniques such as digital printing, waterless dyeing, and low-impact finishing methods are gaining traction. These advancements significantly minimize water consumption and chemical usage, thereby reducing the environmental impact of polyester fabric production.
Circular Economy Initiatives: Some forward-thinking companies are embracing the principles of the circular economy. This involves designing products and production processes with recycling and upcycling in mind. By creating polyester knitted fabrics that are easier to recycle or repurpose at the end of their life cycle, these manufacturers contribute to a more sustainable textile industry.
Bio-based and Bio-degradable Alternatives: While traditional polyester is derived from fossil fuels, researchers are actively exploring the development of bio-based alternatives. These bio-polyesters are made from renewable resources, such as plant-based feedstocks like corn or sugarcane. Additionally, bio-degradable polyester fabrics are being investigated as a means to reduce environmental impact further.
Certifications and Eco-labels: Various certifications and eco-labels have emerged to help consumers identify more sustainable polyester products. For example, the Global Recycled Standard (GRS) certifies the use of recycled content in products, and the OEKO-TEX Standard 100 ensures that fabrics are free from harmful substances. These labels incentivize manufacturers to adopt eco-friendly practices and provide transparency to consumers.
In conclusion, the polyester knitted fabric industry is making strides towards sustainability through advancements in recycled fibers, eco-friendly dyeing, circular economy practices, bio-based alternatives, and certifications. As the demand for eco-friendly textiles continues to grow, manufacturers are stepping up their efforts to address environmental concerns associated with traditional polyester production. By embracing these sustainable practices, the industry can not only reduce its impact on the environment but also cater to the increasing preference of consumers for greener and more responsible products.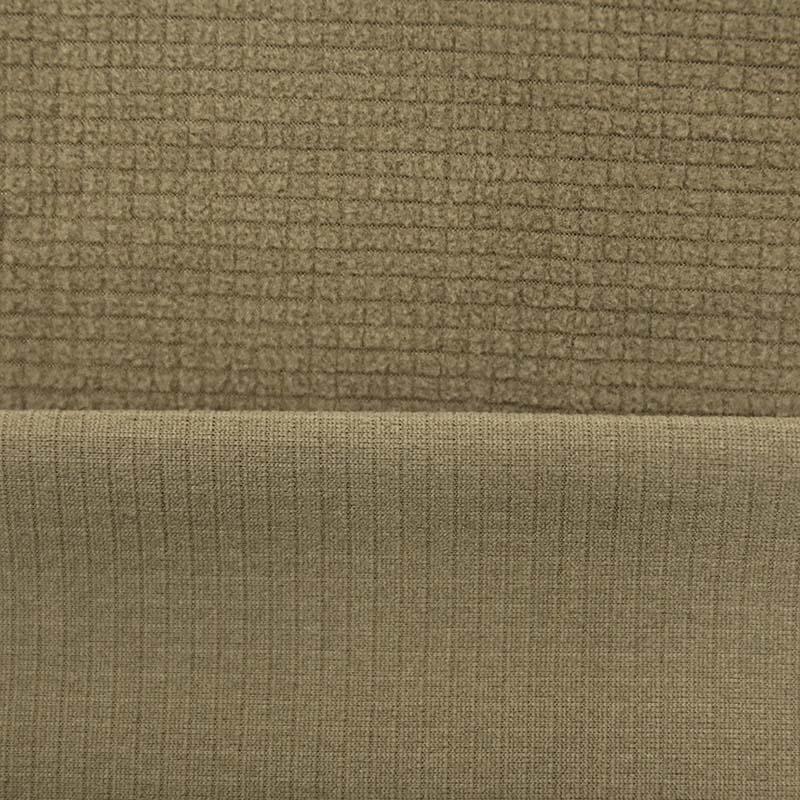 GD-014 100%Polyester Lattice Fleece