The Din Rail Power Meter is a versatile energy meter that can be used in a wide range of applications.
It is a great tool for residential and industrial settings that need a reliable, easy-to-install solution.
Unlike panel-mounted meters, which are typically bulky and take up a lot of space, a DIN rail power meter is engineered to fit within the standard 35mm section of TS35 DIN rail. This means that it can be installed quickly and easily, without the need for complicated wiring, while still offering a neat, clean appearance on your electrical cabinet.
In addition to its unique form factor, the DIN rail power meter is also engineered to allow power supplies and other accessories to be positioned adjacent to it along the same rail, further reducing installation time. This makes it an ideal choice for crowded electrical cabinets where space is limited.
Electric Power - Class B
The Din Rail kWh Power Meter is an electronic watt-hour meter designed to measure active energy consumption. It is in compliance with the relevant technical requirements of IEC62052-11, 62053-21 and is IP rated to protect against moisture, dust and vibration.
It is equipped with an LCD display that shows a variety of different parameters, including total kWh, active kWh and peak kWh. These features provide users with accurate data that can be used to track their energy usage.
AcuRev 1310 offers a high-performance solution for power and energy monitoring in buildings. It is one of the industry's highest accuracy metering CT and has the capability to integrate with a variety of other power management systems via RS485 communication interface.
In addition to measuring electricity, the AcuRev 1310 can record a wide range of other data to help you stay informed about your power supply and system performance. These include limit alarms logs that record out-of-limit events for voltage and current unbalance, allowing you to quickly identify problems when they arise. Additionally, it can record waveform power quality triggers based on a half-cycle updated RMS.
Using the AcuRev 1310 can help you save money on your energy bills by accurately tracking your usage, as well as by enabling you to avoid costly demand penalties. In addition, the meter allows you to compare energy usage across facilities and devices to plan future resource allocation.
How to Install a DIN Rail Power Meter
The easiest way to install a DIN-rail power meter is to follow the manufacturer's instructions. This will ensure that the meter is securely installed and provides accurate readings for years to come.
Choose an area that is not prone to humidity or vibration for optimal performance. It is also important to make sure that the meter is surrounded by an adequate electrical circuit to protect it from overheating or damage.
The best time to install a watt-hour meter is during an annual maintenance inspection. This will help to identify potential issues that can be addressed before they have an impact on your energy costs.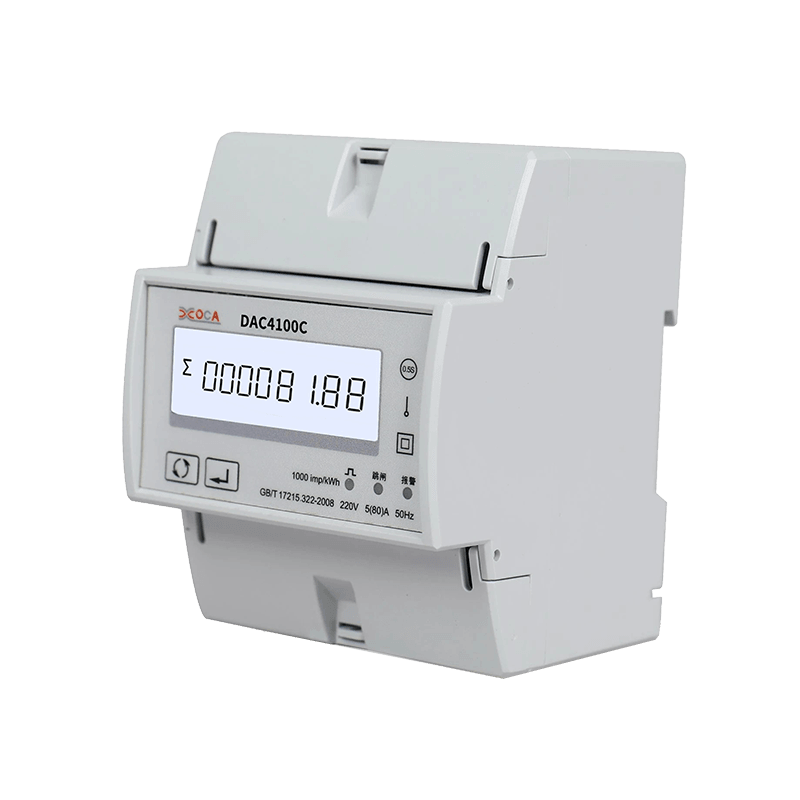 DAC4100C One Phase 2 Wires DIN Rail Modbus Smart Energy Meter with Relay
| | |
| --- | --- |
| Model NO. | DAC4100C |
| Theory | Electronic Meter |
| Power Meter Connection | Feed-through Type |
| Measured Signal | Pulse Peak |
| Type | Power Meter |
| Certification | RoHS, ISO, CE |
| Customized | Customized |
| Model No. | DAC4100C |
| Related Voltage | 110V or 230V AC |
| Rate Current(Ib) | 5A |
| Communication | Modbus |
| Connect | AC |
| Measure Type | 1p2w |
| Pulse Constant | Per Pulse Equal 0.001/0.01/0.1/1 Kwh/Kvarh (Config) |
| Operating Temperature | -25 to +55ºC |
| Harmonics Emissions | IEC 61000-3-2 |
| IP Degree of Protection | Designed to IP51 Front Display, IP30 Meter Body |
| Pulse Width | 60/100/200 Milliseconds (Configurable), Default Is |
| Other Function | with Relay |
| Transport Package | Paper Carton+Pallets |
| Specification | 98*75*80 mm |
| Trademark | XOCA |
| Origin | Zhejiang China |
| HS Code | 903033900 |
| Production Capacity | 1000000 PCS /Year |