Polyester mesh fabric
is renowned for its exceptional breathability, a key characteristic that makes it a popular choice for a wide range of applications, especially in clothing and textiles. Here's a detailed explanation of polyester mesh fabric's breathability:
Open Weave Structure: The breathability of polyester mesh fabric is primarily due to its unique open-weave or knitted structure. It features a grid-like pattern with evenly spaced holes or perforations. These openings create channels through which air can easily pass.
Enhanced Ventilation: Because of its open construction, air circulation is unimpeded. This allows air to flow freely through the fabric, both from the outside to the inside and vice versa. As a result, heat and moisture are efficiently transported away from the body, helping to maintain a comfortable temperature.
Heat Dissipation: In warm or hot conditions, the body naturally generates heat. Polyester mesh fabric facilitates the dissipation of this heat by allowing the warm air to escape and cooler air to enter, creating a cooling effect. This is particularly beneficial in sportswear and outdoor clothing, where thermal regulation is essential.
Moisture Management: Perspiration or moisture produced by the body is also effectively managed by polyester mesh fabric. The breathable nature of the material allows sweat to evaporate more quickly, keeping the wearer dry and comfortable. This moisture-wicking property is especially crucial during physical activities.
Reduced Clamminess: The breathability of polyester mesh fabric minimizes the sensation of clamminess that can occur when sweat becomes trapped against the skin. This is why it is commonly used in athletic wear, undergarments, and activewear.
Comfort in Humid Conditions: In humid climates or during intense workouts, excessive moisture can accumulate. Polyester mesh fabric helps maintain comfort by aiding in the efficient evaporation of sweat and preventing the feeling of stickiness.
Quick Drying: Mesh fabric is quick to dry when it gets wet. Whether due to sweat or exposure to rain, the open structure allows moisture to evaporate rapidly, making it an ideal choice for swimwear and water-based sports apparel.
Temperature Regulation: The breathability of polyester mesh fabric contributes to temperature regulation. It keeps the body cool in hot weather and can also provide insulation when layered under other clothing in colder conditions.
Reduced Odor: Because moisture is managed effectively, there is less opportunity for bacteria to thrive and create unpleasant odors. Polyester mesh fabric can help keep garments fresher for longer, especially during physical activities.
Versatility: The breathability of polyester mesh makes it suitable for a wide range of applications beyond clothing, including bags, backpacks, hats, and even certain types of upholstery.
In summary, the breathability of polyester mesh fabric is a result of its open and porous structure, which promotes airflow, heat dissipation, and moisture management. This makes it an excellent choice for clothing and textiles designed to keep the wearer comfortable in various weather conditions, especially during physical activities.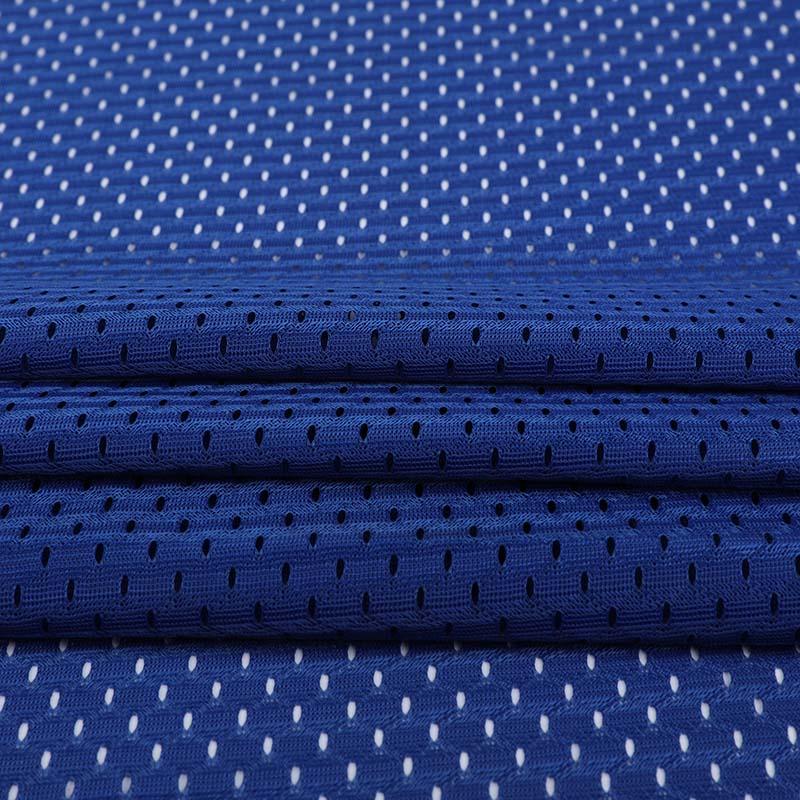 GD-008 100% Polyester Mesh Fabric