Panel Power Meters
, also known as panel meters or power monitoring devices, play a crucial role in enhancing energy efficiency and enabling effective energy management in industrial and commercial settings. These devices provide real-time data on electrical parameters, allowing businesses to monitor and optimize their energy consumption. The integration of Panel Power Meters offers several benefits, but successful implementation requires careful consideration of various factors.
Real-time Monitoring and Data Analysis: Panel Power Meters provide continuous, real-time monitoring of electrical parameters such as voltage, current, power factor, active power, reactive power, and total harmonic distortion. This data helps facility managers and energy professionals gain insights into energy usage patterns and identify inefficiencies or anomalies. By analyzing the data, businesses can make informed decisions to optimize their energy consumption and reduce wastage.
Load Balancing and Demand Management: Panel Power Meters enable load balancing by identifying uneven distribution of electrical loads across different phases of a three-phase power system. With this information, businesses can redistribute the load, ensuring efficient utilization of electrical capacity and preventing overloading. Additionally, panel meters aid in demand management by providing real-time visibility into peak demand periods, allowing businesses to take measures to reduce peak demand charges and overall energy costs.
Energy Consumption Tracking and Billing: Panel Power Meters help businesses track their energy consumption accurately. This data is essential for energy auditing, cost allocation, and billing purposes. Moreover, in settings where tenants or departments share energy costs, panel meters facilitate fair and transparent billing based on actual energy consumption.
Fault Detection and Preventive Maintenance: Anomalies in electrical parameters detected by Panel Power Meters can indicate potential equipment malfunctions or electrical faults. Early identification of these issues allows for prompt maintenance, reducing the risk of downtime and costly repairs. Furthermore, preventive maintenance based on data from panel meters can extend the lifespan of electrical equipment and minimize energy wastage due to inefficiencies.
Energy Efficiency Initiatives and Sustainability: Panel Power Meters play a significant role in supporting energy efficiency initiatives and sustainability goals. By providing clear visibility into energy consumption and performance, these meters empower businesses to identify opportunities for improvement and implement energy-saving measures. This data-driven approach leads to reduced greenhouse gas emissions, lower utility bills, and a more environmentally responsible operation.
Key Considerations for Selecting and Implementing Panel Power Meters:
Accuracy and Measurement Range: When selecting Panel Power Meters, accuracy is paramount. Ensure that the meters meet industry standards and provide precise measurements across the entire range of electrical parameters required for your specific application.
Communication Protocols and Connectivity: Consider the communication protocols supported by the meters and their compatibility with existing building management systems or energy monitoring platforms. Ideally, the meters should offer multiple connectivity options such as Modbus, Ethernet, or wireless protocols.
Scalability and Flexibility: Choose Panel Power Meters that are scalable to accommodate future expansion or changes in energy monitoring requirements. Flexible metering solutions can adapt to evolving energy management strategies and allow for easy integration with other monitoring systems.
User Interface and Data Visualization: The user interface of the Panel Power Meters should be user-friendly and provide clear data visualization. Accessible dashboards and reports enable effective analysis and decision-making for energy management strategies.
Installation and Maintenance: Consider the ease of installation and maintenance requirements for the Panel Power Meters. Select meters that can be installed with minimal disruption and offer remote monitoring capabilities to reduce maintenance efforts.
Compliance and Certifications: Ensure that the Panel Power Meters comply with relevant industry standards and have necessary certifications for electrical safety and accuracy.
Cost and Return on Investment: Evaluate the overall cost of implementing Panel Power Meters and assess the potential return on investment through energy savings, improved efficiency, and reduced maintenance costs.
In conclusion, Panel Power Meters play a pivotal role in enhancing energy efficiency and effective energy management in industrial and commercial settings. These meters provide real-time monitoring, load balancing, demand management, and facilitate energy consumption tracking and billing. When selecting and implementing Panel Power Meters, businesses should consider factors like accuracy, communication protocols, scalability, user interface, installation, compliance, and cost-effectiveness to achieve optimal results and drive sustainable energy practices.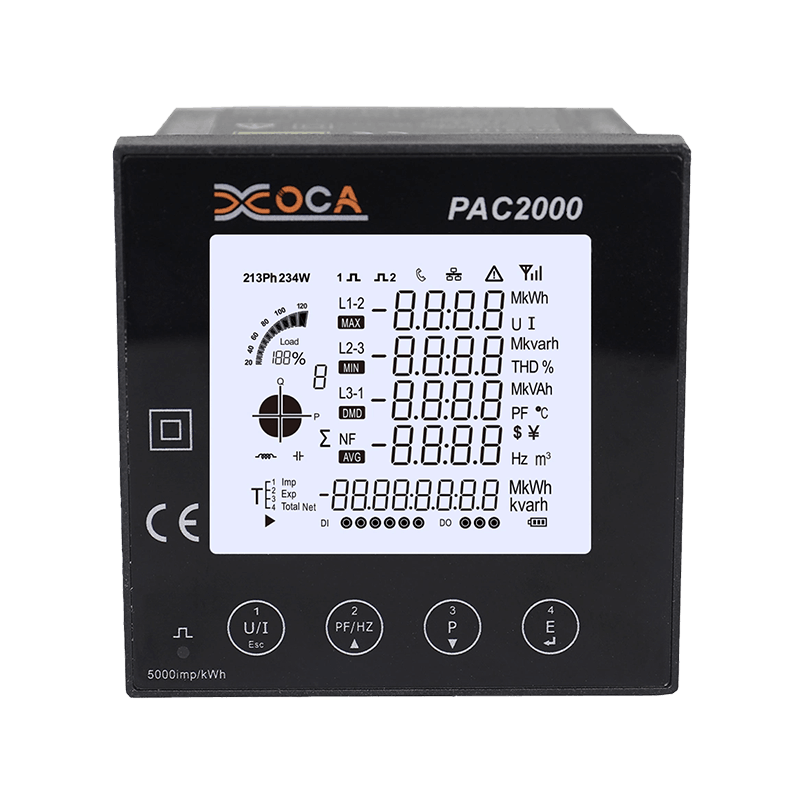 PAC2000 Intelligent LCD Panel Digital Power Meter