Din rail power meter technology has been revolutionizing the energy management industry in recent years, providing businesses and consumers with more accurate and efficient ways to measure and monitor energy usage. This technology has made significant strides in improving the way energy is measured, monitored, and managed in a range of industries.
Din rail power meters are compact devices that are designed to fit onto a standard din rail, which is commonly used in electrical cabinets and panels.
These meters are able to measure a variety of energy parameters, including voltage, current, power, and energy usage, in real-time. This real-time data can then be used to optimize energy usage, identify energy inefficiencies, and reduce energy costs.
One of the key benefits of din rail power meters is their accuracy. Traditional energy meters are often prone to errors, which can lead to inaccurate readings and increased energy costs. Din rail power meters, on the other hand, are highly accurate, providing precise measurements that enable businesses to better understand their energy usage and identify areas for improvement.
Another advantage of din rail power meters is their versatility. These devices can be used in a wide range of applications, from residential homes to industrial facilities. They are also compatible with a variety of communication protocols, allowing them to be integrated into existing building automation systems and energy management platforms.
As the demand for energy-efficient technologies continues to grow, so too does the use of din rail power meters. In response, manufacturers have been developing new and innovative features to meet the evolving needs of the market. For example, some din rail power meters now offer advanced analytics and reporting capabilities, allowing businesses to identify patterns and trends in their energy usage and make data-driven decisions about energy management.
Another recent development in the din rail power meter industry is the use of wireless communication technology. Some meters now feature wireless communication capabilities, enabling them to transmit real-time data to a central energy management system without the need for physical wiring. This can reduce installation costs and simplify the process of retrofitting existing buildings with energy management systems.
As more businesses and consumers seek to reduce their energy consumption and costs, the din rail power meter industry is poised for continued growth and innovation. With advances in accuracy, versatility, and connectivity, these devices are becoming an essential tool for energy management in a range of industries. In the years to come, it is likely that we will see further advancements in din rail power meter technology, as manufacturers continue to push the boundaries of what is possible in energy management.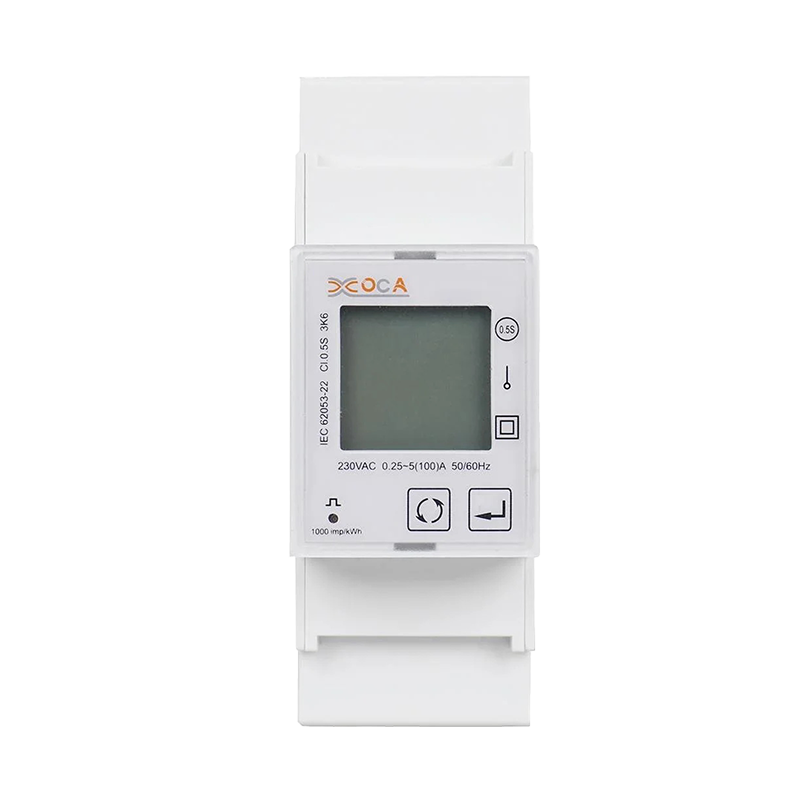 Dac2101 DIN Rail Single Phase LCD Display Multi-Tariff Modbus Energy Meter
Product Description
| | |
| --- | --- |
| Model NO. | DAC2101 |
| Theory | Electronic Meter |
| Power Meter Connection | Feed-through Type |
| Measured Signal | Pulse Peak |
| Type | Power Meter |
| Certification | RoHS, ISO, CE |
| Customized | Customized |
| Model No. | DAC2101 |
| Related Voltage | 110V or 230V AC |
| Rate Current(Ib) | 5A |
| Communication | Modbus |
| Connect | AC |
| Measure Type | 1p2w |
| Pulse Constant | 1000 Imp/Kwh |
| Operating Temperature | -25 to +55ºC |
| Harmonics Emissions | IEC 61000-3-2 |
| IP Degree of Protection | Designed to IP51 Front Display, IP30 Meter Body |
| Pulse Width | 60/100/200 Milliseconds (Configurable), Default Is |
| Other Function | Prepaid Function |
| Transport Package | Paper Carton+Pallets |
| Specification | 36*100*65mm |
| Trademark | XOCA |
| Origin | Zhejiang China |
| HS Code | 903033900 |
| Production Capacity | 1000000 PCS /Year |