What Is a Panel Power Meter?
A Panel Power Meter is a highly reliable instrument that provides building managers and engineers with a wealth of valuable energy data including kWh usage, time-of-use, and power quality.
Integrated with network-enabled communications features a power meter can communicate this information remotely to a building management system or other devices.
Whether you're looking to reduce energy consumption and costs or troubleshoot power quality issues, a panel power meter is the perfect solution for any application. A panel power meter can be found in industrial facilities, switchboards, and generating sets as well as distribution feeders or medium and high-voltage control panels.
Power meters have a standard LCD display that combines the visual clarity of an analog meter with the accuracy and reliability of digital technology without moving parts. These meters can be standalone or connected to a network through native Modbus RTU or CC-Link communication. They are commonly used to monitor current, voltage, watts, and power factors in electrical distribution panels, motor control centers, and machine panels.
Many of the panel meters we carry have additional features such as temperature inputs, process signals, and alarm outputs. These auxiliary inputs allow users to monitor multiple parameters on a single device by connecting external sensors to the panel meter. Combined with the standard meter display, these inputs provide users with a richer and more complete picture of their power system.
Another common feature of these instruments is multi-load monitoring. This allows you to monitor multiple loads from one meter and gives you the granularity to drive savings at the load level. Using a multi-load meter also has a lower cost per metering point than installing several individual meters.
Most of the panel meters we carry come with a built-in web portal for safe pre-configuration before, during, or after installation. This eliminates the need for a PC and makes the setup and management of your energy meters much easier.
Knowing how to read a power meter is important for understanding your electricity usage. To read an analog meter, place your eye on the dial and read it from right to left. If the pointer is directly on a number, use the higher number. Otherwise, use the lower number.
A panel mount power meter with an LED display can display a multitude of measurement items. For example, one PR300 power meter can take the place of two or more traditional meters, saving on costs, space, and wiring. You can also choose which parameters you want displayed on the display with a simple push of a button. This is especially useful for multi-load applications. Each meter can be configured for a specific phase and wire system, CT and PT ratios, and demand times. Easily set this configuration from the front control buttons on the unit, even during the measurement. This saves significant time and effort during commissioning and installation.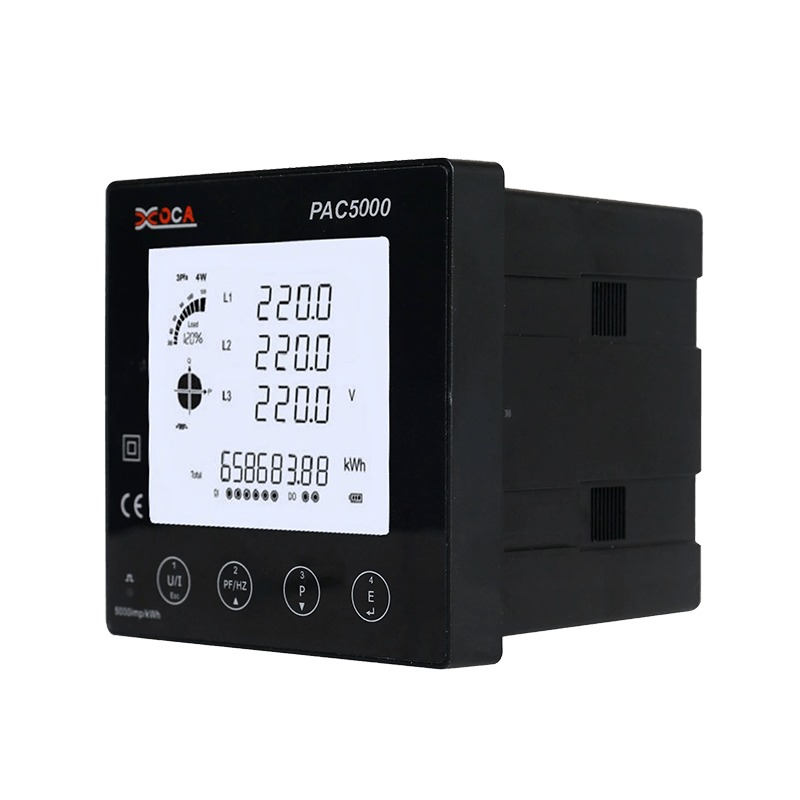 PAC5000 Big LCD Display Panel Digital Wireless Energy Meter Smart Meter
1. Embedded panel installation, product panel size 96 * 96mm, adopts touch button design, improves operation of key and reduces key failure rate
2. External current transformer type supports direct access of Roche coil and current transformer of output type like 5A/100mV/100mA, with reverse connection correction function of current transformer
3.Support external voltage transformer access, input voltage minimum 30V
4. Multi-function parameter measurement to provide measurement datas of voltage, current, active power, reactive power, apparent power, power factor, and phase angle,etc.
5. Provide electrical parameters of various types of analysis, such as voltage / current, total harmonic and subharmonics, voltage/current unbalance, voltage peak factor ,current k coefficient etc, supporting up to 63 subharmonics.
6. Provide a variety of statistics and local storage functions, such as two-way power, four-quadrant power, demand, maximum / minimum statistics
7, Provide monthly electricity consumption statistics for the last three months, and daily electricity consumption statistics for the last 31 days
8. Support for multi-channel digital input and output interface
9.Support 2 passive pulse output, 1 RS485 communication with baud rate of 38,400 bps