What Is a Three Phase Energy Meter?
A Three Phase Energy Meter is an electronic device used to measure the power consumption in a three-phase electrical circuit.
These devices are used in industrial applications, such as factories and automation plants. They are also popular among consumers who want to control their electricity bills.
These meters are based on the principle that electricity is the product of voltage and current, so the total power can be calculated. They are useful for a variety of reasons, including identifying faulty equipment and helping to prevent expensive problems down the road.
Basically, they use a current shunt placed in the power line and an analog-to-digital converter (ADC) to sense the phase current of the circuit. They can be used for a wide range of applications, including residential, commercial, and industrial.
They also have a wide range of features, such as magnetic immunity and radio frequency isolation. These features help to make them more durable and secure, preventing vandalism and tampering.
The shunt is typically made of resistive material and is located in the line between the poles of each phase. It then shares its ground with a voltage divider, which senses the voltages across it. The voltages are then sent to an ADC to be displayed on the screen.
Some single-phase meters have shunts that are referenced to the power line voltage, which eliminates the need for additional isolation. However, this makes the shunts more susceptible to heating. Hence, they are not commonly used in three-phase applications.
A three-phase meter can be a good option for homeowners with large homes, or those who have a high electrical demand. This is especially true if you have air conditioners or other appliances that use a lot of energy.
These devices are easy to install and can be programmed to save money on your power bill. They can also be programmed to send real-time data to your smartphone, allowing you to monitor your usage and budget accordingly.
They are available in hat rail or wall casing, as well as portable versions for easy portability. These devices are also ideal for industrial applications, such as factory and automation plants, where they can be mounted on machines or in cabinets to measure their power consumption.
Another benefit of these devices is that they can be programmed to show a cover open symbol if someone tampers with the top cover. This shows the date and time that a person opened the meter and helps to avoid potential damage.
These devices can be integrated into existing metering systems, allowing you to track your consumption. They are also useful in detecting issues with your power supply that can lead to expensive problems down the road, such as a short circuit or overloading.
3-Phase AC Current Meters are a great solution for detecting irregularities in power system operation and preventing minor problems from turning into costly ones. They are simple to install, provide comprehensive sensor data in easy-to-share formats for analysis and budgeting, and help you identify machine health & performance trends.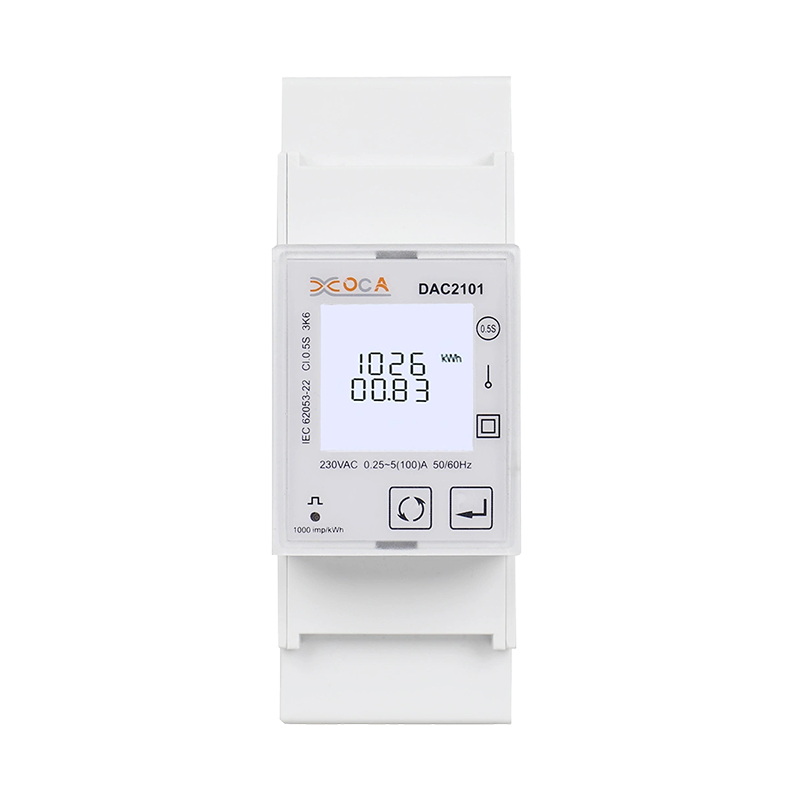 DAC2101 DIN Rail Single Phase LCD Display Multi-Tariff Modbus Energy Meter
| | |
| --- | --- |
| Model NO. | DAC2101 |
| Theory | Electronic Meter |
| Power Meter Connection | Feed-through Type |
| Measured Signal | Pulse Peak |
| Type | Power Meter |
| Certification | RoHS, ISO, CE |
| Customized | Customized |
| Model No. | DAC2101 |
| Related Voltage | 110V or 230V AC |
| Rate Current(Ib) | 5A |
| Communication | Modbus |
| Connect | AC |
| Measure Type | 1p2w |
| Pulse Constant | 1000 Imp/Kwh |
| Operating Temperature | -25 to +55ºC |
| Harmonics Emissions | IEC 61000-3-2 |
| IP Degree of Protection | Designed to IP51 Front Display, IP30 Meter Body |
| Pulse Width | 60/100/200 Milliseconds (Configurable), Default Is |
| Other Function | Prepaid Function |
| Transport Package | Paper Carton+Pallets |
| Specification | 36*100*65mm |
| Trademark | XOCA |
| Origin | Zhejiang China |
| HS Code | 903033900 |
| Production Capacity | 1000000 PCS /Year |