If your toilet seat is slamming shut like a prop in a haunted house, the hinge dampers may need tightening.
Whether the problem is from years of use or just a little looseness, you can easily adjust the hinge dampers to keep your lid or seat from slamming shut and damaging the porcelain.
The dampers on a soft-close toilet seat are plastic cylinders filled with functional grease or a viscous silicone that creates resistance in the hinge, slowing the movement of the lid or seat when it closes. If they are subjected to a lot of pressure, however, these cylinders can crack or burst, letting the functional grease leak out, making the lid or seat unable to close gently and quietly.
There are a number of different types of slow-close toilet seats on the market, and prices can vary widely as well. Depending on the quality and design, these seats can cost anywhere from $25 to $60. The most expensive ones tend to be made of solid wood and feature adjustable hinges for a custom fit. These are typically sturdier and more comfortable to sit on than the cheaper plastic ones.
How long these seats last depends on the maintenance and usage, with most lasting around five or more years before they need to be replaced. The most common cause of the failure of a soft-close toilet seat is if it is constantly forced down and closed quickly, which can damage the hinges and the dampers. The other most common cause of these hinges failing is if the dampers are adjusting out of alignment with each other, which causes them to become less effective at slowing down the motion of the lid or seat.
The best way to adjust the dampers on a soft-close toilet is to remove the grey cover on the side of the hinge assembly and push upward on the two recessed areas on the end of each damper cylinder. This will allow you to pull out the entire damper assembly and remove the toilet seat from the hinges. Once the dampers are removed, you can replace them with new ones or adjust the old ones by squeezing out the excess damping grease and replacing it with fresh.
Depending on your preference, you can also choose to replace the whole hinge assembly rather than just the dampers. You will need to find the screws that hold the hinge assembly on the side of the toilet and unscrew them. Once the screws are removed, you can remove the plastic pieces holding the hinge assembly in place and use a screwdriver to loosen the screws on the assembly. Once the screwdriver is free, you can unscrew the assembly and remove it from the toilet bowl. You can then replace the old screws and attach the new hinge assembly to the toilet bowl. The process is similar for a toilet seat with a damper on each side of the hinge assembly.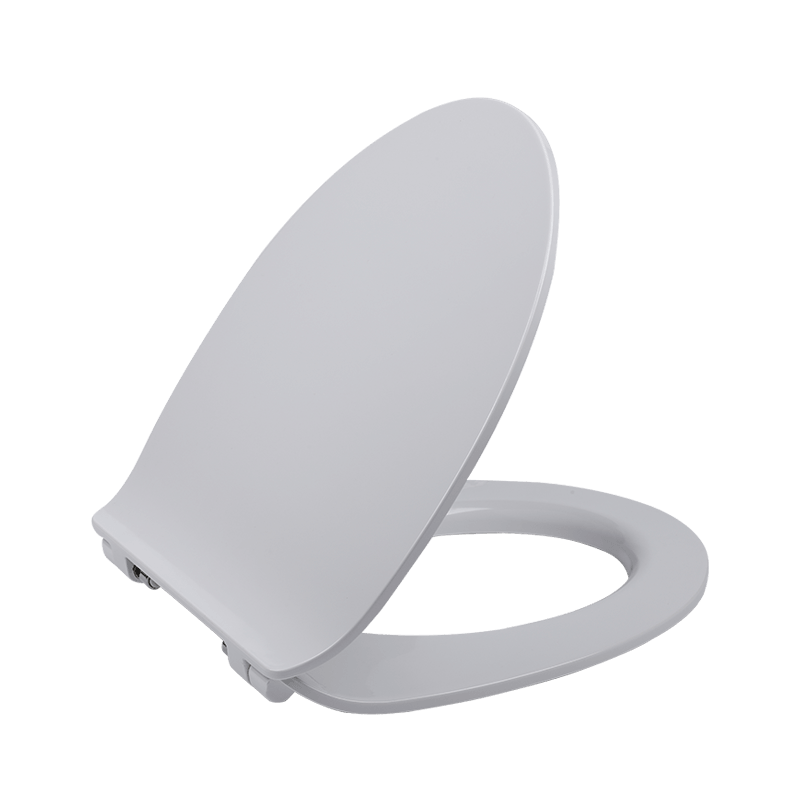 T5 Seats Soft Close Toilet Seat,Bathroom Ceramic Toilet Seat Cover Toilet Seat
| | |
| --- | --- |
| Place of Origin | Zhejiang, China |
| Brand Name | OEM.ODM |
| Feature | Slow-Close Toilet Seats |
| Color | White |
| Product name | Sanitary Ware Toilet Seat Cover |
| Toilet Seat Shape | Round |
| Weight | 2.26KGS |